Buying a home should be simple. Unfortunately, purchasing a residence can become complicated quickly, especially if you fail to consider the immediate and long-term costs associated with a house.
Ultimately, there are many hidden expenses that a homebuyer needs to consider before he or she purchases a house, including:
1. Utilities
Heating and cooling costs, water fees, electricity expenses and other utility bills may prove to be overwhelming if you're not careful. Fortunately, if you learn about various utility costs now, you may be better equipped to keep your utility bills in check at your new residence.
Ask your real estate agent for information about a home seller's utility bills. By doing so, you can get a better idea about how much your utilities may cost if you decide to purchase a particular residence.
Also, if you plan ahead for your utility bills, you can budget accordingly. Keep in mind that utilities are essential in any home. As such, you'll need to account for these costs in addition to your monthly mortgage payments, regardless of the home you buy.
2. Commuting
If you're moving to a new city or town, you'll want to consider how your move may impact your daily commute to work, school or any other locations that you visit regularly.
Consider a home's proximity to highways. If you move to a house that is located near a major highway, you may encounter heavy traffic at various points throughout the day, resulting in a lengthy commute.
Also, find out whether public transportation is available near your new home. In some instances, you may be able to take advantage of buses, trains and other public transportation options to get where you need to go without delay.
3. Home Upgrades
Although a home may appear to be a dream come true, there are problems beneath a house's exterior that could bubble to the surface after you complete your purchase. Thus, you may want to put aside money for home upgrades that may be necessary in the near future.
For example, an older home may require a new hot water heater and furnace soon. And if you start saving for a new hot water heater and furnace today, you may be able to replace them before it's too late.
A home inspector can help you identify home problems. This professional will conduct an in-depth review of a residence and provide honest feedback about any problems that could escalate quickly.
After a home inspection, you can always ask the home seller to perform the necessary repairs, or you can walk away from a home offer. On the other hand, you can keep your current home offer, move forward with your home purchase and complete the upgrades on your own.
When it comes to planning ahead for hidden home expenses, a real estate agent can point you in the right direction. Your real estate agent is happy to respond to your homebuying concerns and questions and will do everything possible to ensure you are fully satisfied with any residence you purchase.
Beautifully appointed waterfront colonial on 5.36 acres bordering the Occoquan Reservoir.Private Road.Huge 2 story family room/gourmet kitchen/breakfast area/sunroom with "greatroom" feel.Formal living/dining room & library,too.Floor to ceiling windows,lots of natural light.Dual staircases.Entertain the masses or quietly sip coffee on the trex deck.Master suite over 500 sq ft.Then there is river!


More Info on this Property | Sign up for Updates
If you're planning on buying a home in the near future and are confused about many of the terms associated with mortgages, you're not alone. Real estate is its own industry with its own set of processes, terms, and acronyms. If you're new to the home buying process, there can be somewhat of a learning curve to understand what each of these terms means.
Since buying a home is such a huge investment and life decision, there's a lot of pressure on home buyers to make sure they get everything right. This makes for a stressful situation for buyers who don't feel like they understand the terminology of things like mortgages, appraisals, credit reports, and other factors that contribute to the home buying process.
To alleviate some of those concerns and to make the home buying process run more smoothly, we've compiled a list of the most common, and most commonly confused, real estate words, terms, and acronyms. That way, when you're talking things over with your real estate agent or your mortgage lender, you'll be confident that you understand exactly what's being considered.
Read on for our real estate terminology glossary.
Adjustable rate mortgage (ARM) - This is one type of home loan. Mortgage rates with this type of loan fluctuate throughout the repayment term of the loan. The fluctuation is based on a market indicator.

Fixed rate mortgage (FRM) - Another type of home loan, a fixed rate mortgage has a rate which does not fluctuate, remaining constant for the life of the term, most commonly 15 or 30 years.

Appraisal - An appraisal is the determination of the value of a property. Appraisals are used when purchasing and selling a home, as well as when refinancing a home loan. Appraisers are required to be licensed or certified in each state and are usually paid for by the lender.

Appreciation - An increase in a property's value, most commonly due to market inflation, or the general increase in home prices over time.

Depreciation - A decrease in a property's value, due to either market deflation (uncommon) or the wear and tear on a home that comes with age.

Closing costs - The costs and fees that a buyer is responsible for when purchasing a home or taking out a mortgage. These include underwriting fees, inspections, appraisals, transfer taxes, and more. Closing costs typically range from 2% to 5% of the total loan amount.

Contingency - Home purchases have contracts to protect the interest of the buyer, seller, and lender. Contingencies are provisions designed to protect the buyer or lender should something occur in the time leading up to closing on (or purchasing) the home. One common contingency is the buyer's right to have a final inspection of the home before closing to ensure no new issues with the home have occurred.

Private mortgage insurance (PMI) - Buyers who cannot afford a down payment of %20 typically are required to take out a private mortgage insurance policy. This policy protects the lender should the borrower default (fail to repay or meet the conditions of their loan).
Just Listed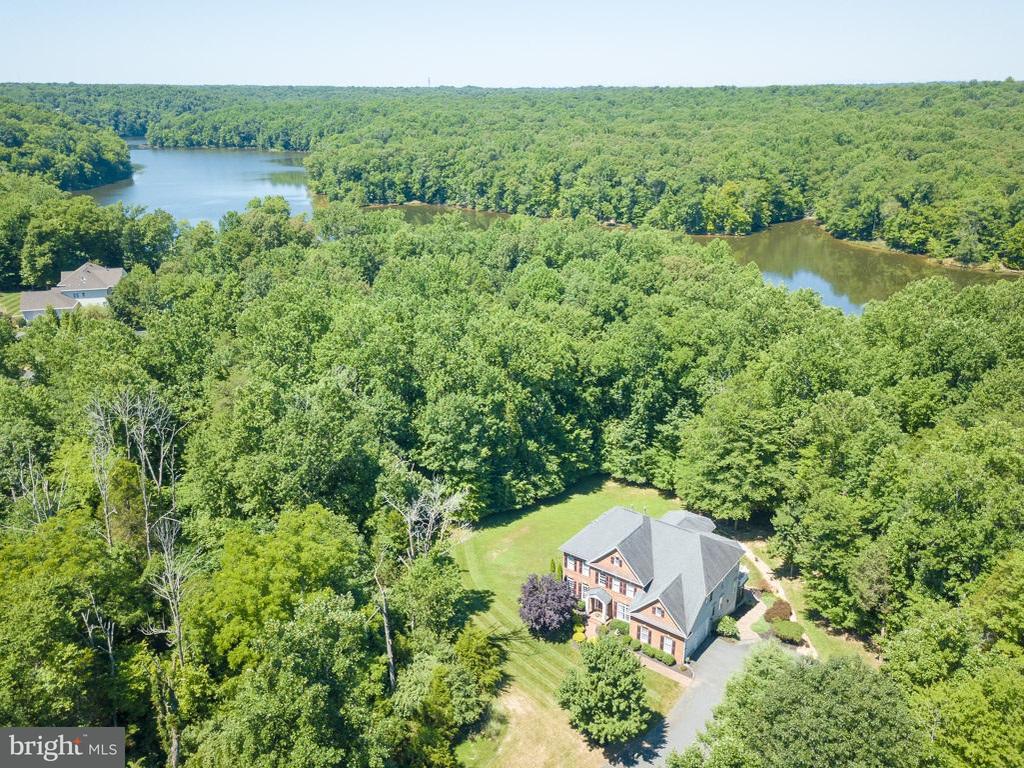 Beautifully appointed waterfront colonial on 5.36 acres bordering the Occoquan Reservoir.Private Road.Huge 2 story family room/gourmet kitchen/breakfast area/sunroom with "greatroom" feel.Formal living/dining room & library,too.Floor to ceiling windows,lots of natural light.Dual staircases.Entertain the masses or quietly sip coffee on the trex deck.Master suite over 500 sq ft.Then there is river!
Radon has no smell, taste, or color. It is a transparent, radioactive gas. Radon is released when the uranium that is contained in the soil and rocks decays over time. The reason that radon is an issue in a home is because it is released through cracks or openings that exist in the foundation. If too much radon is present in the home, the radioactive particles can attach themselves to dust particles, causing people in the home to breathe the harmful substance in.  
What Is A Radon Test?
The radon test is conducted over the course of two days. A testing machine or canisters are placed on the lowest habitable level of a home being tested. This would be either on the first floor or in the finished basement level of the home. The cost of a radon test isn't very much, ranging anywhere from $65 to $125. The radon test is typically part of the home inspection, but sometimes other circumstances warrant a test or re-test. The canisters take a bit more time to produce results than the testing machines do, so confer with your inspector before the test is done.   
The Basics
One thing you should know is that radon is always present. The level of radon fluctuates constantly. The test is conducted over a two day period to get the average level of radon in the home. The Environmental Protection Agency considers levels of radon at or above 4 pCi/L to be unsafe. If this is found to be true, there is a solution, however, as systems that lessen the amount of radon in the home can be installed. These can come with a hefty price tag, costing anywhere from $1,000 and up.   
Radon Levels
Radon levels will vary on a daily basis. They can also vary by season, with weather conditions and with the amount of available ventilation. Structural changes that have been made to the home can also have an effect on the levels of radon in the home. If you are getting ready to sell your home and already have a radon mitigation system installed, you may want to test the levels before you even put your home on the market to know what you're working with. The system may not be working properly, or the levels may have faced a sharp increase, making it hard for the removal system to keep up. 
 With the proper installation of a radon removal system, the air in your home will be safe to breathe. If you put an offer in on a home and the home inspection finds that there are unsafe levels of radon present, at least you'll know what you're dealing with. If you decide that the home is not the place for you and your family, even with a removal system, you'll walk away from the deal informed. If you're a seller, beware that the level of radon in your home could affect the sale. Although radon sounds like a scary thing, it's manageable. Radon tests and removal systems help to keep the levels safe.